Lots to bark about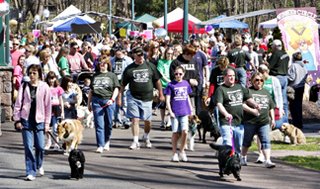 Saturday's
Bark for Life at Sunnybrook
was delightful. Absolutely delighful.
I saw friends, former co-workers, and the women I have come to know as the force behind Pottstown's million-dollar miracle. Ruell Johnson, executive vice president of the American Cancer Society, visited from Atlanta, and I boasted about Sunnybrook's dance floor, springtime in Pennsylvania, and the friendly, positive atmosphere surrounding the Bark for Life.
Our town, with 500 dogs leading the way, was on its best behavior Saturday.
For more on this celebration of four-legged life, read
Monday's editorial
and see
more photos
.
And don't forget to vote in The Mercury's Top Dog contest. Cast your votes with a ballot available at The Mercury offices and drop off your cash or check payable to the American Cancer Society. The dog getting the most dollar votes wins a front-page feature in The Mercury and a bag of gifts. All proceeds benefit Relay for Life.
Labels: American Cancer Society, Bark for Life, Pottstown Relay for Life, Top Dog